Set with Closed Kitchen Caddy (AirBox®) and Compostable BIOMAT® 10l Bags
With 52 compostable bags without handles
Dimensions Airbox®: 260 x 198 x 256 mm (10.2" x 7.8" x 10.1")
Dimensions Bags: 440 x 500 mm
Our kitchen caddy AirBox® comes with two rolls 10l compostable food waste bags (52 bags). The lid of the caddy supports air circulation which enables that food waste in the bag can breath and therefore food waste drains which means that bad odour, as well as condensate, will be minimized.
The AirBox® can be easily fitted to the wall or in a kitchen cupboard using two screws. Ideal for family households
made in Germany
biological waste stays dry -> odour-free
less decomposition, mould and germs
perforation supports ventilation - the weight of the biological waste will be reduced by 30 per cent
Information to the storage conditions and stability you will find in our FAQs.
Content: 1 AirBox® + 2 rolls of 52 bags (10l, 3 Gallon)
Dimensions: W260 x H198 x H256 mm (W10.2" x H7.8" x H10.1")
Bag Size: 420 x 440 mm (16.5" x 17.3")
AirBox® in a set with two rolls of BIOMAT® 10l compostable rubbish bags made from corn starch.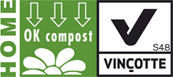 Der AirBox® Bioeimer auf einem Blick:
Geschlossener Bioeimer für die hygienische Bioabfallsammlung im Haushalt
Speziell entwickelt für BIOMAT® Bioabfallsäcke
Deckel mit Löchern bzw. Mikro-Perforation. Vorteil: Luft kann eindringen, aber lästige Obstfliegen bleiben draußen! Keine Maden!
Frei stehend oder montierbar
aus robustem Kunststoff
hergestellt in Deutschland
Farbe: grün
Abmessung AirBox®: B260 x T198 x H256 mm
BIOMAT® Bioabfallsäcke auf einem Blick:
Kompostierbare Bioabfallbeutel aus nachwachsenden Rohstoffen
Abmessung Bioabfallsäcke mit Henkel: 440 x 550 mm
In diesem Paket in der Größe 10 Liter
Auf praktischen und platzsparenden Rollen
We found other products you might like!